XXXXXXXXXXX -- ALL SOLD -- XXXXXXXXXXX
My original electro that I bought used in 01 or 02.... my Bushmaster and this Defiant I aquired in a trade is on the chopping block.
Everything I have ICD is here and up for sale.
--I only accept paypal, (or cash for local DallasTX pickup)
--I'll ship to the lower 48 for the $$ listed, you live elsewere, you pay extra...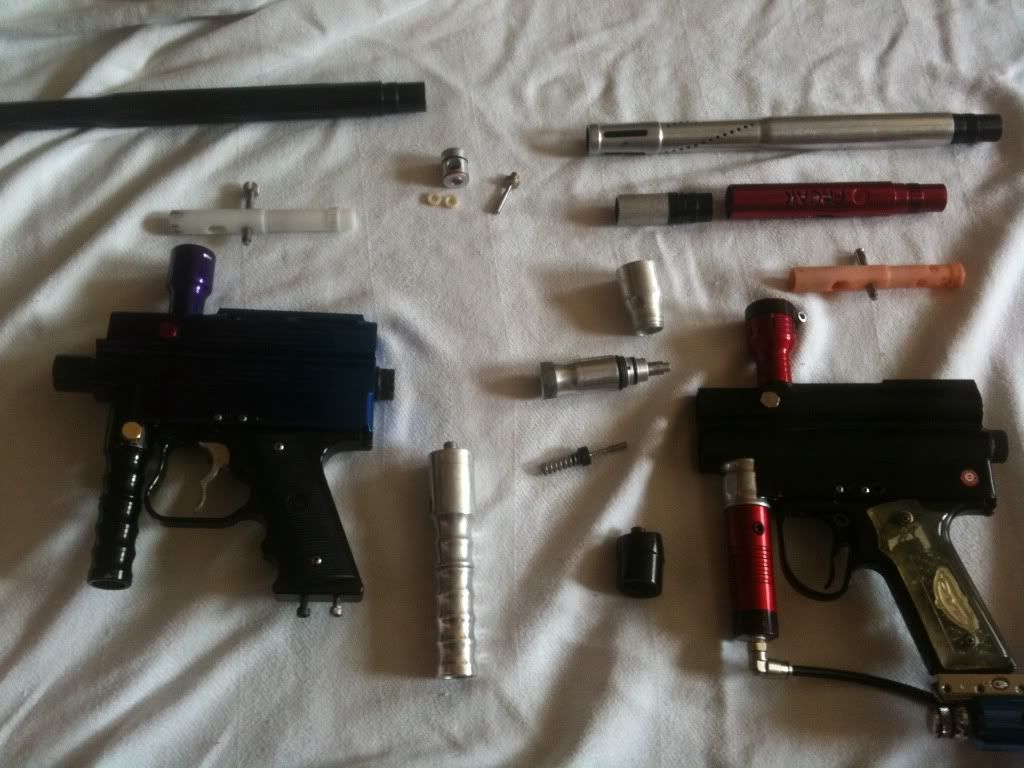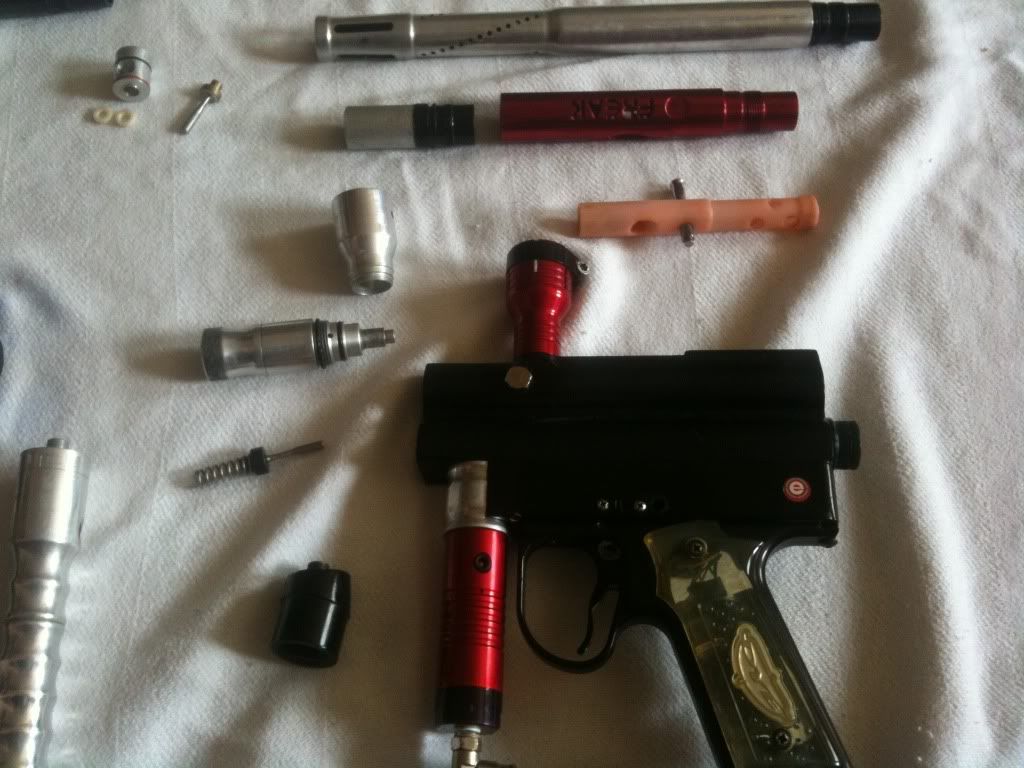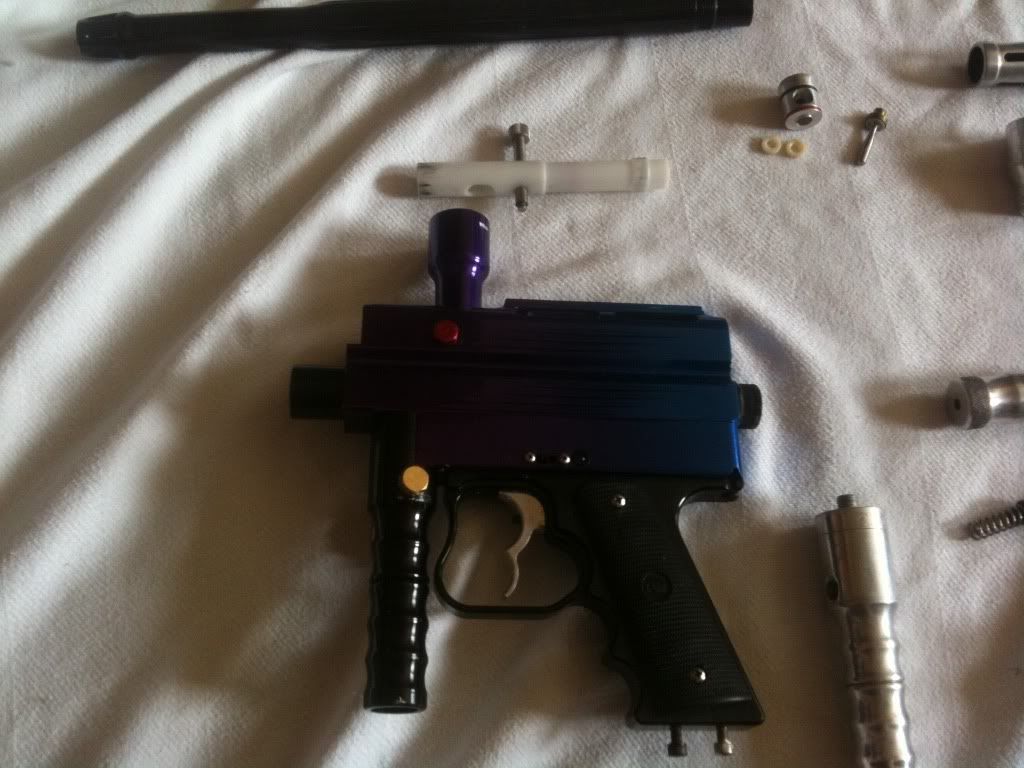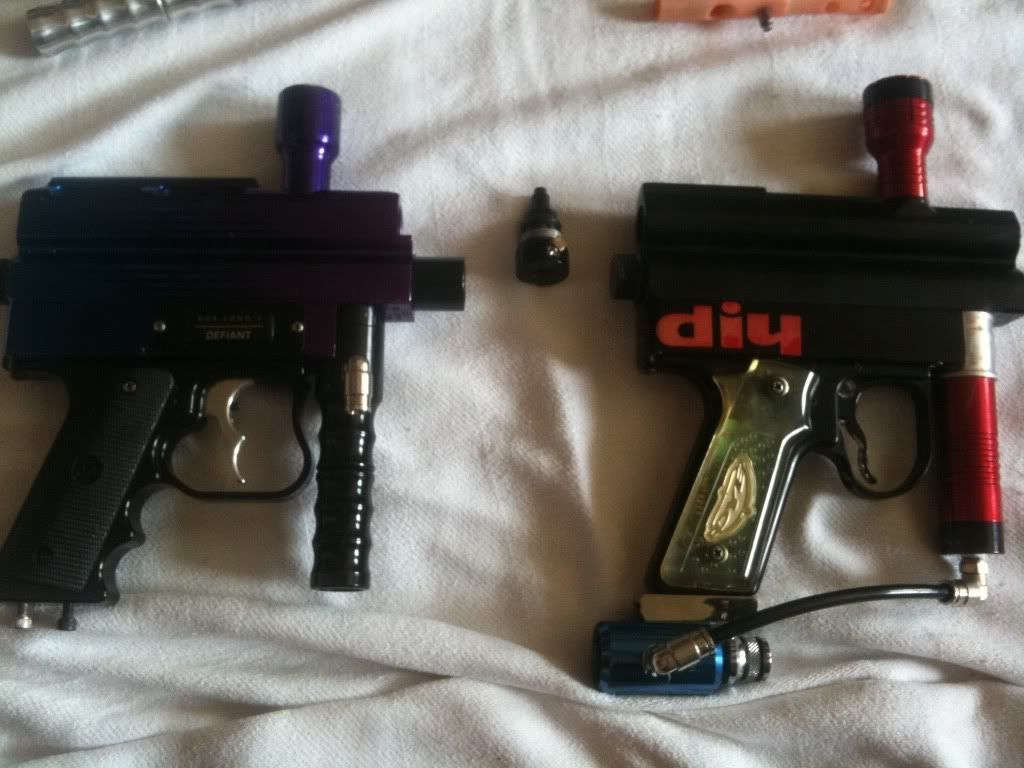 What we have here is...
Blue/purple fade Defiant.
black Bushmaster custom anno.
Purple/blue fade Defiant body, good shape, few knicks and dings, # BLD 4904 -($40)-
Black Bushy body, between a gloss & dust, good shape - a little scuffed, # Bushmaster 0557 -($40)-
-2- stock feednecks - sanded down bushy, purple defiant (knicks at top). -($10 each)-
ccm high rise bushy feedneck, anno'd to match bushy. -($20)-
-2- stock bolts - lightly used defiant, drilled/lightened dyed red(redish
) bushy bolt. -($10 each)-
-2- stock bolt pins - defiant stock, milled down/drilled out bushy -($5 each)-
-2- stock barrels - stock black defiant (32 deg eleminator I think), sanded down stock bushy.-($15 each)-
ICD freak back, anno'd to match bushy. I'll throw in the cut down/sanded down tip.-($20)-
-*_*_*_SOLD_*_*_*-cocker LPR adapter for bushy/defiant, black. no LPR, just adapter with hose fitting and o-rings.-($25)-
-2- stock LPR's - stock black defiant, stock sanded down bushy with aftermarket adjuster and cap.-($15 stock, $20 one w/adjuster)-
XXSOLDXXXX--stock valve with stem, ported valve, milled down valve stem.-($15)-
XXXXSOLDXXXX---2- brand new cupseals for stock valve.-($5 each)-
XXXXSOLDXXXX--vapor valve w/stem - currently installed in bushmaster, stem is milled down a bit for added flow, never had problems out of this valve.-($30)-
XXXXSOLDXXXX--- Mac-Dev red valve - currently instaled in defiant. (Have not aired the defiant up, so I can not verify that the seal is good) -($30)-
-2- stock HPR - black defiant, sanded down bushy.-($10 each)-
-2- stock rams - bushy one is in great condition, one in the defiant is trashed (hammer, shaft, back cap could be salvaged - housing is no good).-($35 for the good one, $12 for the parts one)-
-2- stock solinoids - bushy one worked back in the day, can't say anything about the defiant one. since the nature of noids is what it is, consider both AS-IS.-($20 each)-
XXXXXX-/-BOTH SOLD-/-XXXXXX -2- stock noid manifolds w/o-rings - bushy one worked back in the day, can't say anything about the defiant one other than that it looks fine.-($10 each)-
XXXXX-BOTH_SOLD-XXXXX-2- stock noid manifold seals - bushy one sealed back in the day, can't say anything about the defiant. (If I disassemble it to sell to someone, and it looks bad, I'll notify the buyer before shipping).-($5 each)-
-2- ball detents - one red, one chrome, both still good an smooth.-($10 each)-
-1- battery tray - defiant w/battery door, XXXXXX-/-BUSHY_TRAY_SOLD-/-XXXXXX bushy no door (red "DIY" anno'd into the tray)-($20 each)-
-2- stock trigger frames w/triggers - bone stock defiant, black bushy frame with drilled and modded trigger. (I will not take the triggers out)-($25 each)-
DYE clear panel grips, good condition, a little yellowing -($10)-
SOLDXXXXXXX--15 degree HPR asa adaptor - Custom made from a cocker asa before they were made for the bushy, comes with bolt and o-ring.-($15 SOLD)-
XXXXX-SOLD-XXXXX -/- Mac-dev gladiator HPR - worked on last use, anno'd to match bushy, I have a few spare parts (seals/springs/pins) somewhere and if I find them I'll include them as well.-($30)-
SOLDXXXXXX--vertical asa adapter for HPR - sanded down works well.-($20 SOLD)-
--NO BOARDS, NO WIRE HARNESSES, NO MACROLINE FITTINGS, NO MACROLINE, NO CP ON/OFF, NO CP RAIL are for sale here, or included in the package $$.--
I'll take $100 paypal'd and shipped to your lower 48 door for it all, or shoot me offers on parts if you don't like my prices, the more you buy the lower I'll go.....
If your interested in seeing closer pics on anything in perticular, just shoot me a pm and I'll get them to you asap.
I have no feedback here, but I have feedback on AngelOwners, PbNation, Ebay. My username is the same on AOG, here is my feedback link there.
www.angelowners.com/sh..._-feedback
If you need more feedback, I'll link you to my pbn and ebay.
Peace,
Ben.