Been out of the game for awhile and finally decided to part out my marker of choice. All parts are listed below.
-Stock Delrin Bolt $7
-eBay Black Spike Delrin Pin $7
-Evil Detonator Regulator $20
-Empire Low-Profile Nano Rail $13
-Hybrid On/Off ASA $15
-Grip Panel Frame Things $10 both
-Trigger $5
-Detents and covers $5
-Stock Valve $10
-Stock Barrel $15
-Body $15

EDIT: EVERY LISTED FOR ONLY $30 Shipped!!
DSC_0008
[url=http://www.flickr.com/photos/61662800@N04/6277920837/]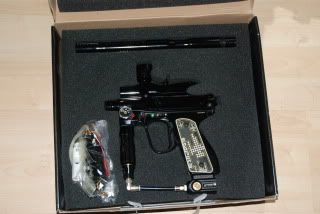 All Prices include PayPal and shipping