NDFS7 Team Gun - It used to belong to a person that played with the Naughty Dogs: He used to practice/play with the Naughty Dogs and this was one of the team guns. As such, it is well played with but not terribly abused. The gun is leak-free and works as it should.
It comes with an HR1 that is well timed and broken in. I chronoed the gun and it hit just under 300fps at just under 300psi. It does not have urethane orings on the stem - neither front nor back. It does not have any leaks, but wanted to let the potential buyer know.
It is also set up with a CP reg and trigger along with Hybrid Grips and will come with a greyish black barrel. Marker has seen a half case of paint and has not been taken apart since I got it from forumreader1. I did wipe the internal part of the marker and cleaned it off after playing with it for a day.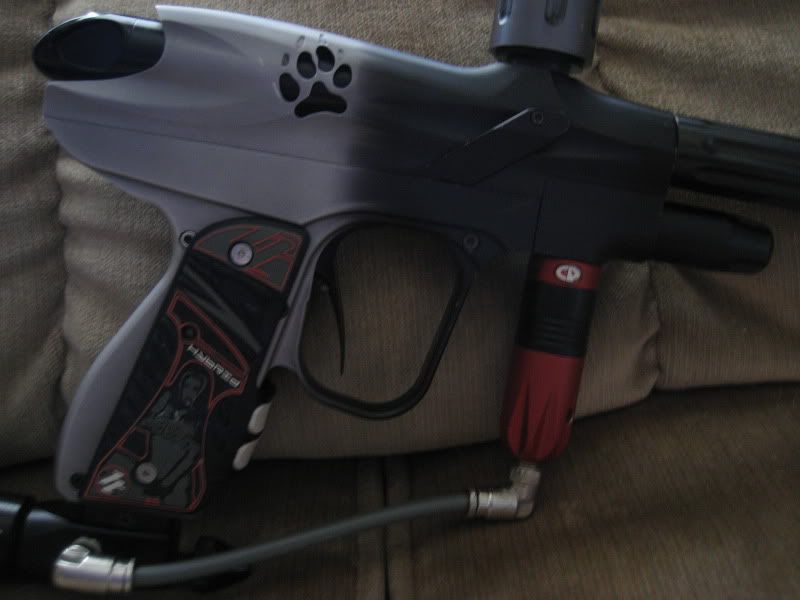 Asking $225 shipped with insurance and tracking, price is flexible.
Ninja 45/4500 needs a new gauge date on tank is 02/2012 so there is over 4.5 years left on it. - $125 shipped w/ insurance and tracking if Gifted or send USPS MO.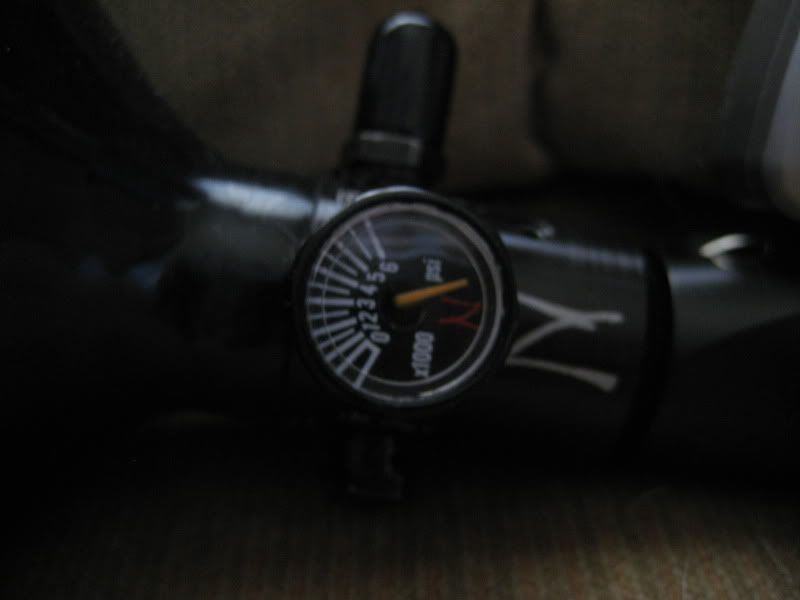 Will sale as a packaged deal with NDFS7 for $325 shipped w/ insurance and tracking if Gifted or USPS MO.
Second is my Purple Teardrop Bushmaster with Lapco reg adapter Eclipse Venturi Bolt and Blade Trigger. Black Dye Sticky Grips, CP Mini Rail and CP ASA, the ram shaft was polished and the marker was re-lubed and chrono'd in the 260 range.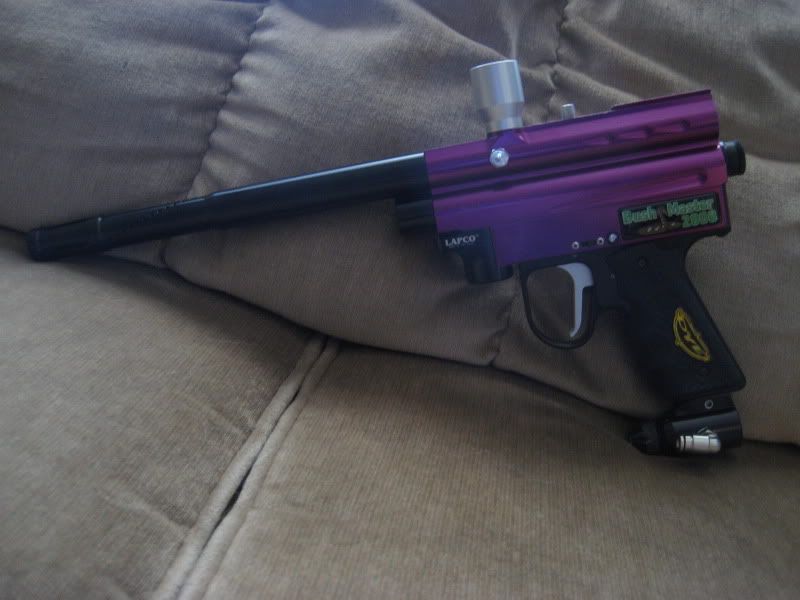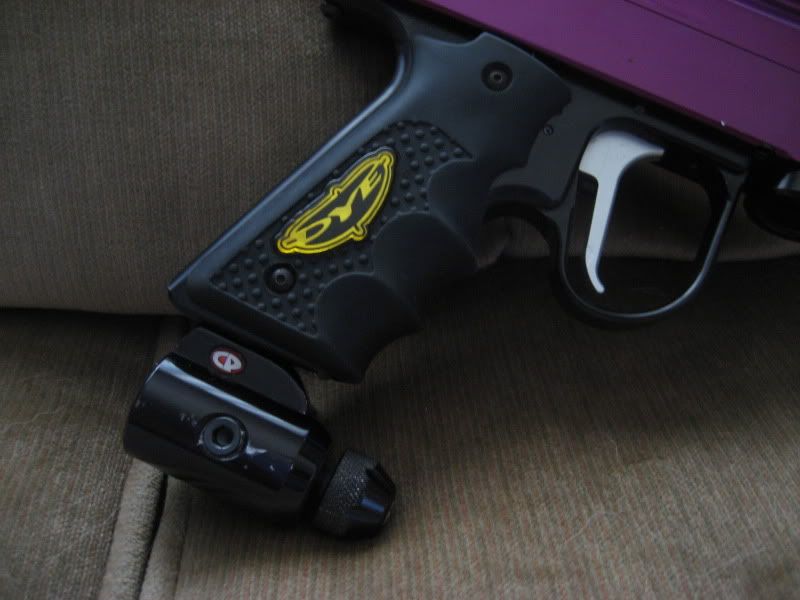 Asking $75 shipped with insurance and tracking, price is firm.
Black and Gold Custom Splash anno done by sschriest, it has a Zeni Frame, Eclipse Trigger, Polished Shaft and Ported Ram housing, it is unsprung rocking a modified stock bolt that was shortened and a shorter pin as well. I believe it has the ebay lpr and will come with extra seals for it and the stcok lpr as well. The detent is aftermarket as well, has dye 2 piece sticky grips, chrono'd in the 270 range was not used by me in a game but was used in the chrono area for a few hundred shots. It will come with a wdp/? direct mount asa.
Asking $85 shipped with insurance and tracking, price is firm.
Last but not least is my Black B2K3 non-pds gun, it is bone stock it does not come with the asa or reg and it will more then likely be used as a parts gun or make a nice loaner gun for friends. This marker is AC threaded.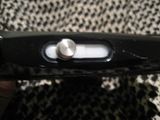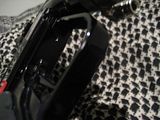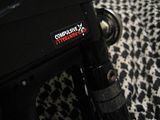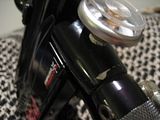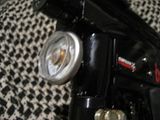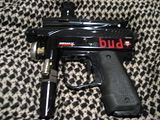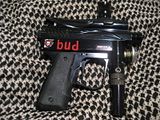 Asking $45 shipped with tracking, price is firm.
I also have the following regs available:
Air America Vigilante w/ both LPR and HPR spring - $25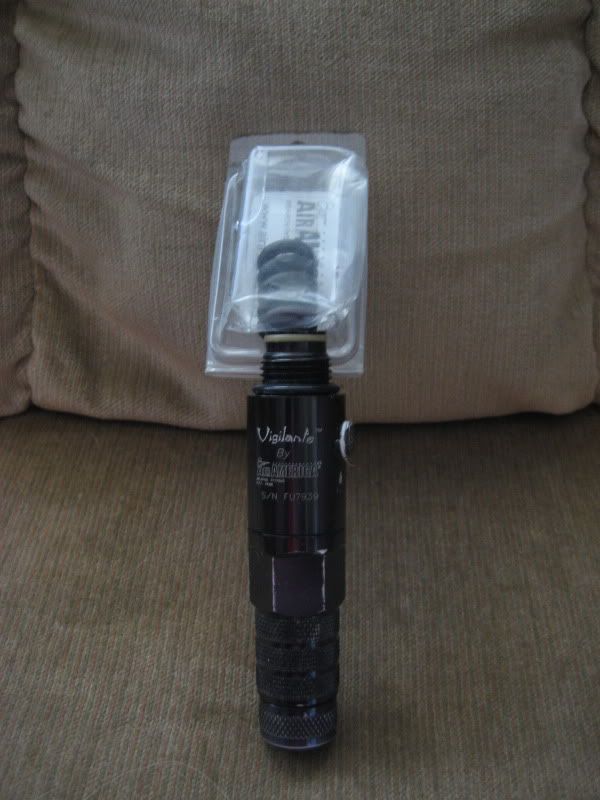 Bob Long Torpedo - $20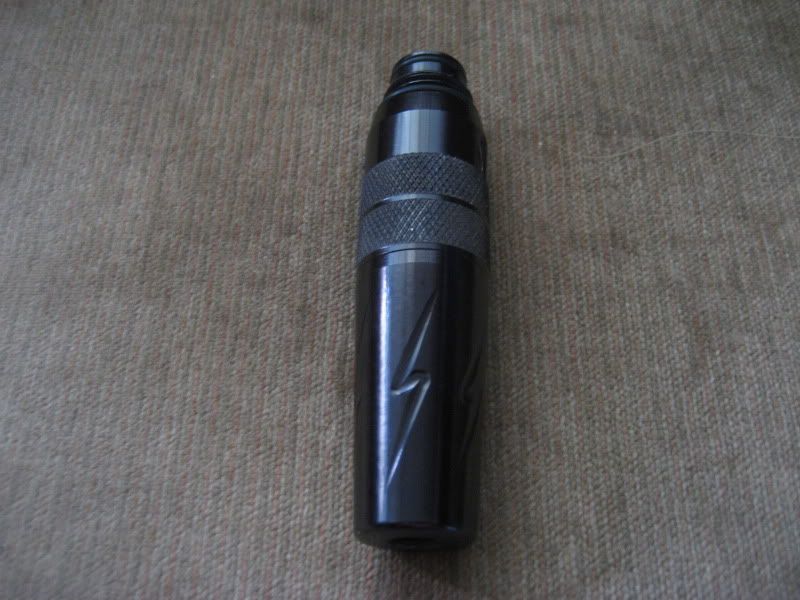 Evil Detonator - $25
Evil Pipe Barrel Kit ICD Threaded - $30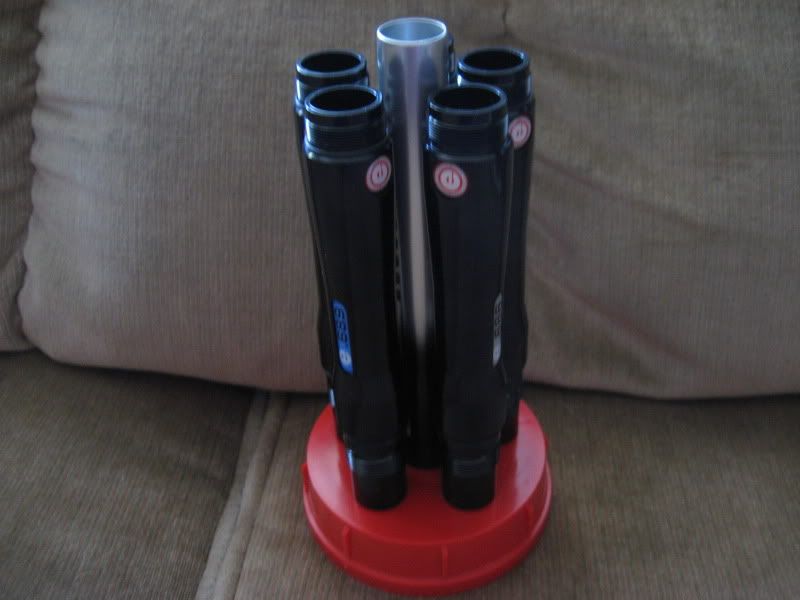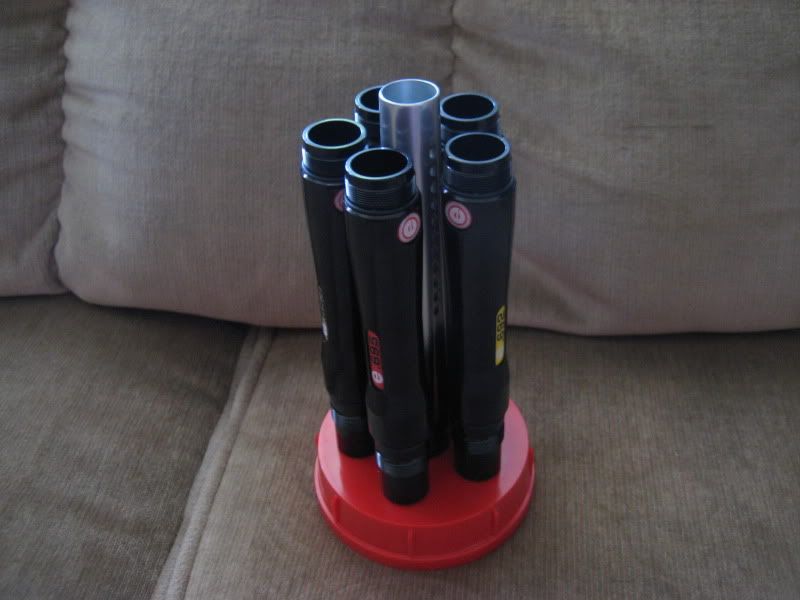 On Target Products ICD Threaded - $50 New was $170 plus tax
I still have the original sticker from I&I Sports.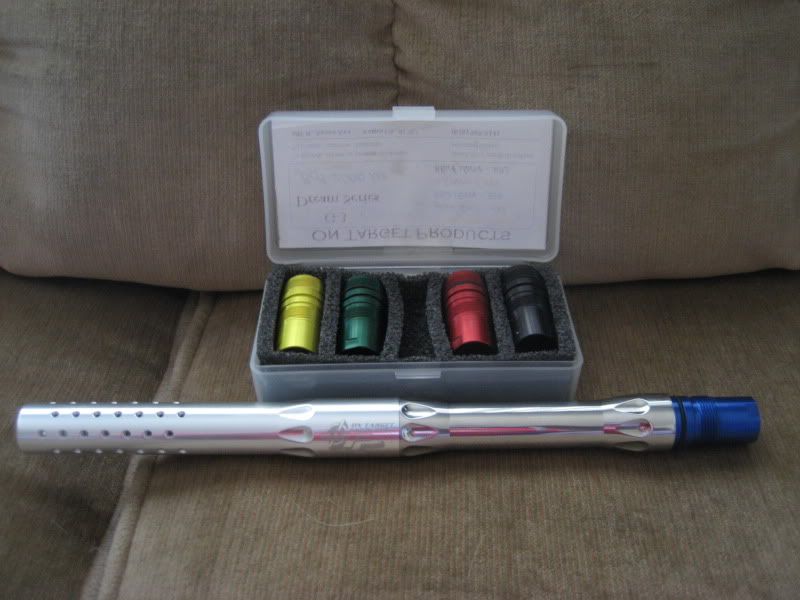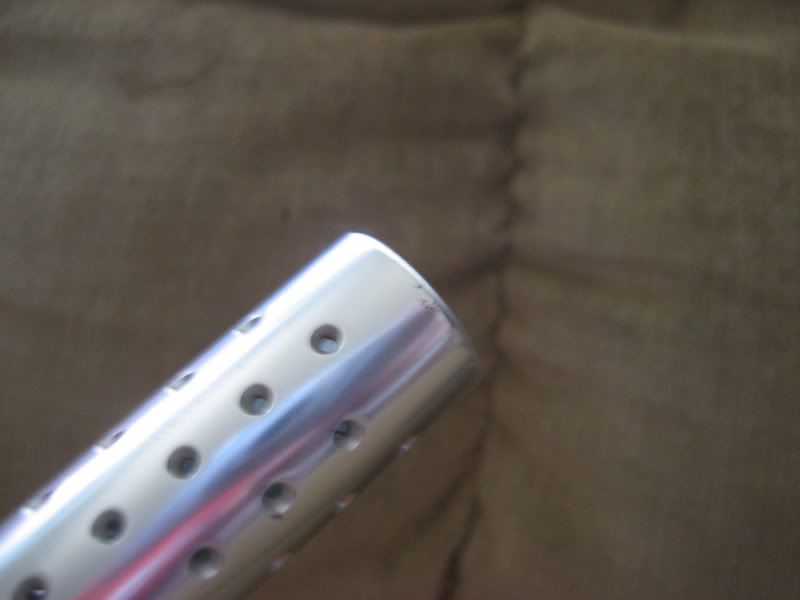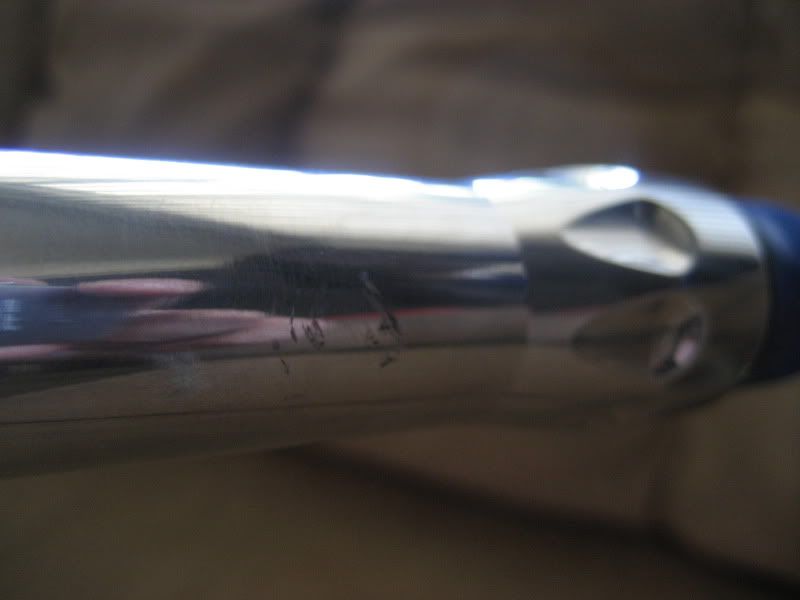 Not sure if anyone is interested in a KAPP Cradle that holds a Nitro Duck Mega Reg Tank Setup with the Nitro Duck Tank and Reg, looking ot get $55 or so shipped for it.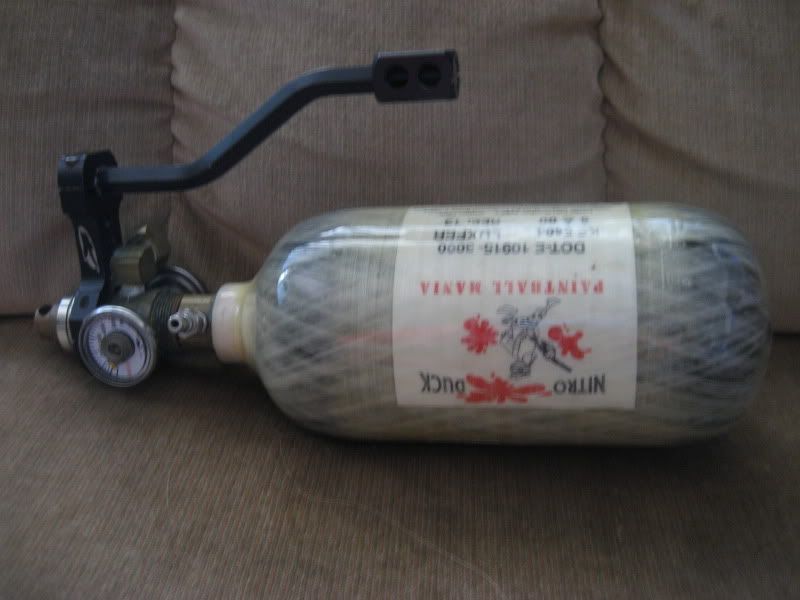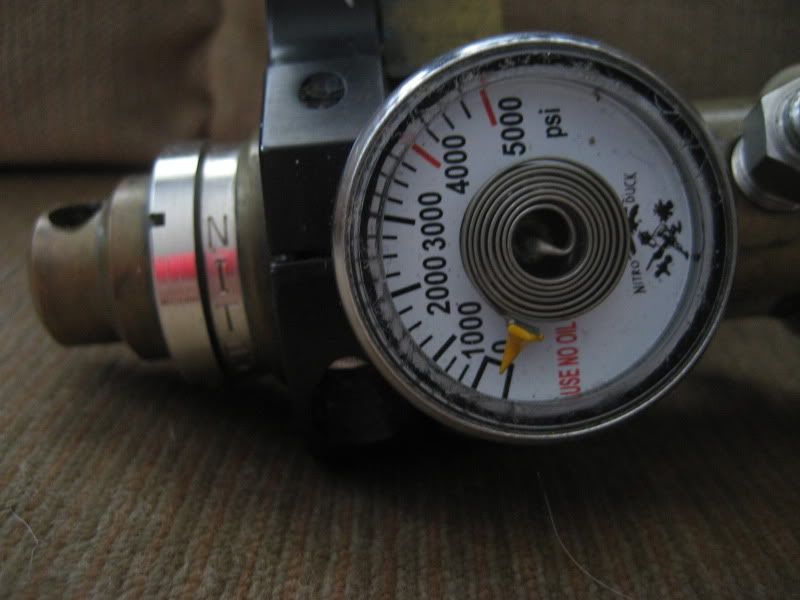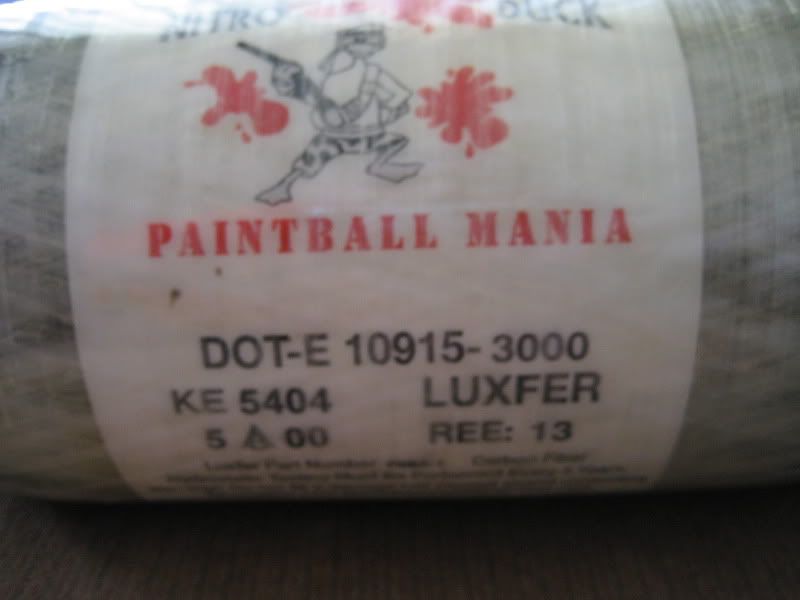 I also have a Crossfire 68/4500 from 02/04 that will need to be re-hydro'd looking to get $30 shipped for it, I got a $40 credit offer towards a new Ninja Tank if I were to trade it in.
Empire 68ci Tank Cover fits the older 68ci tanks, it will fit a newer tank but a bit loose. - $15
I think the Crossfire and BL Torpedo are SPF for right now, but if I could get a few opinions on prices I would appreciate it.
I am trying to get $400 to $500 to put towards a lnib 2012 g6r, thanks guys and gals.