All parts are from a Bushmaster or 2k4 bushy unless otherwise noted
Please note that all parts are OBO. Most prices include shipping. Shipping Costs not included for any item under $10. Buy Multiple Items for best deal.
MAKE AN OFFER. LOWBALLS WELCOMED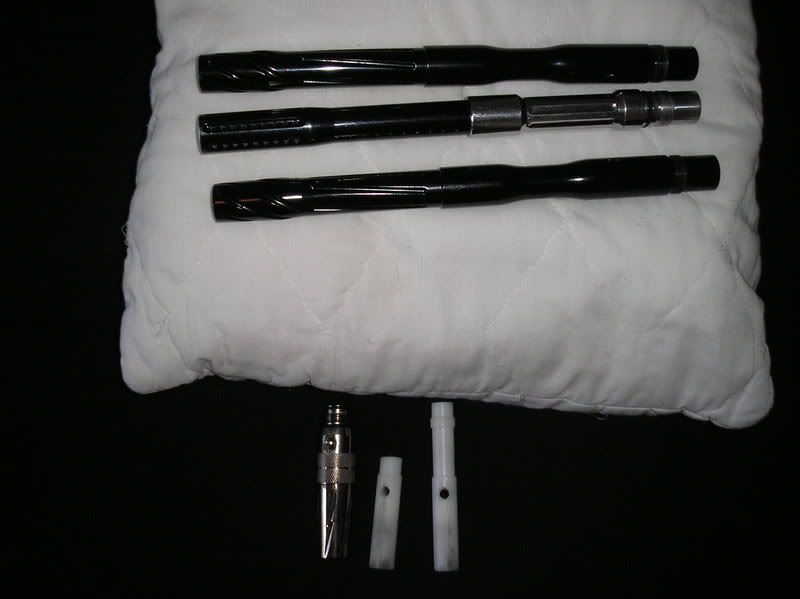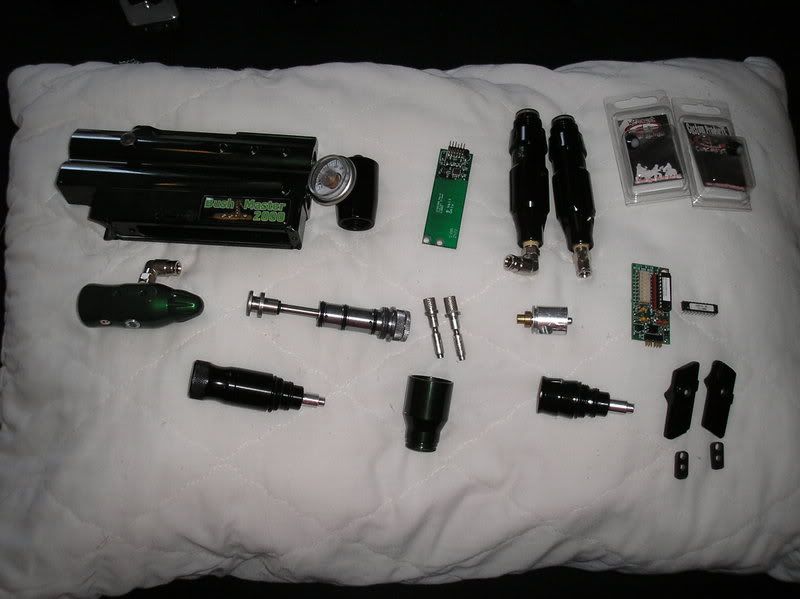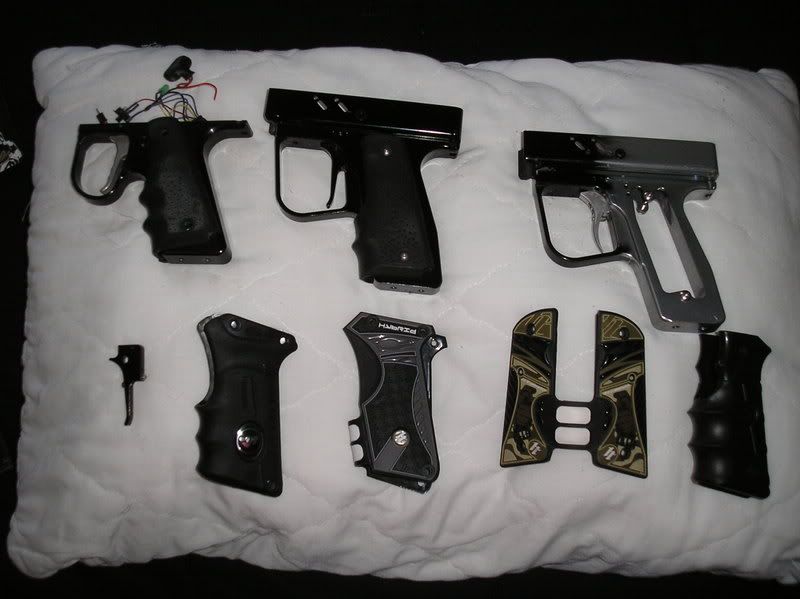 Stock B2K4 ASA with Ashcroft Gauge black-$12
Stock 2k2 LPR-black. small scratches on front of LPR. condition is good. still functional. $16
Stock 2K4 LPR-black. Some minor scratches and one somewhat deep scratch. still works great $18
Stock Bushmaster Feedneck- green $5
Cut Bushmaster bolt- $10
Stock 2k4 bolt- $12
Stock Pin(2)- $7 ea.
Modded stock ram assembly. lightened hammer and ported. Silver. Done by Greg_ICD- SOLD
Stock Bushmaster ram assembly-black. condition is still good. Minor scratches on rear cap- $30
Stock B2K4 eye covers-black. Still in factory condition $15
Stock B2K4 eye covers-black. good condition. signs of minor usage $13
CP Cocker Detents(2)- BNIB. Black GONE
Stock 9300 board from B2K4-great condition $18
Stock Bushmaster grips(2)- good condition $5 ea
Stock Ion grips- .45 style. not the prettiest grips some of the most comfortable grips i have ever used. $8
Stock WGP grips- .45 style. good condition. nothing special to say about these. $5
Stock Valve. good shape. still seals $11
Stock Bushmaster board w/ chaos chip and stock chip. $30
Stock B2K4 trigger-good condition $9
1 Manifolds. $$$ make an offer. not sure on the going rate$$$
(2)Stock Barrel B2K4-black. good condition $8 ea
Stock B2K4 frame- black SOLD
Stock B2k4 frame- Black/silver with vapor trigger $25
Stock Bushmaster Frame- black SOLD
Green Bushmaster tray-green-non PDS. Minor scratches $10
Silver/Black B2K4 tray- PDS. Minor scratches $16
Hybrid .45 style 2006 desert camo grips-BNIB $18
Hybrid gen 6 black/grey Matrix grips. hole pattern is same as T2 $18
Evil Detonator- black. BNIB SOLD
evil detonator- black. LNIB. however does have a scratch on it from trying to remove it from a marker with pliers. still performs like new. $20
Green Bushmaster body. Teardrop style. Signs of usage $30
ICD freak back- SOLD
PARTS I WANT
BARRELS
Stiffi barrels in cocker threads
Sly Barrels in cocker thread
Annex barrels in cocker thread
Lucky paintball bores (any size) and backs- cocker, imp, or spyder threading.
Dye barrels in Cocker threading
Evil pipe in cocker threading
BUSHY RELATED PARTS
GBR ram assembly
Zeni 15*
Regs- CP, Shocktech, Dye, AKA,Vert Maxflo, Empire, FEP, Palmers fatty, Essentially anything better then the stock reg
on/offs. Various manufacturers are ok. such as CP, empire, critical, NDZ, etc.
ANYTHING ELSE PAINTBALL
JT Spectra Lens. Thermal. must be BNIB
Rare unused JT straps
Rare JT bottoms and goggles
AND JUST ANYTHING ELSE
PSP packages
Digital cameras