Up on the block today is a ICD Promaster. This marker shoots absolutely amazing. Very little kick, fast and consistant. The marker had a silver/polished body and blue frame and reg mount. Gun has scratches from use, and some blemishes on the body from the previous owner. DOES NOT affect the marker in anyway. This gun was used recently, on 5/15 ALL DAY during a High School tournament with absolutely no problems. Stayed i4 n chrono all day long.
Also have blue body, silver frame, blue reg adapter, bolt, ram, stock board and wireharness to through in. one wire needs to be soldered back to the on/off switch.
Upgrades are:
1. 14 Invert CF barrel
2. AKA SCM3 LPR
3. Evil Detonator HPR (scratched up, works fine).
4. CP rail. Hybrid ASA (works really nice, easy to turn on and off).
5.Warrior Clamping Feedneck
Like said earlier, marker shoots flawlessly with no problems. Just want a G3 for a custom project I want to do.
Pics: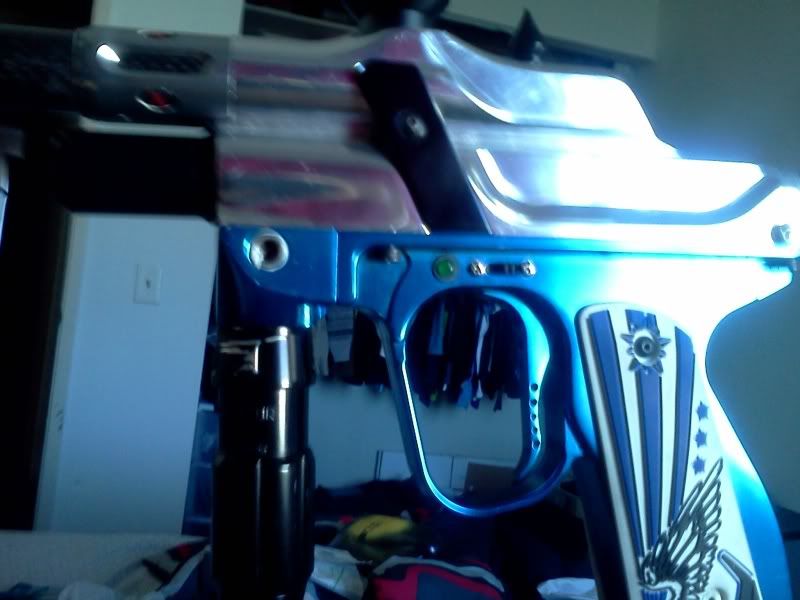 Price
$165 shipped/pp'd.
Trades:
DP G3
ICD Freestyle
NOTHING ELSE.
Rules:
1. You pay, I ship.
2. If trading, you ship first..
3. POST BEFORE PMing ME
4. NO LOWBALLS
5. NO trades for non pb stuff