I thought I'd post up a thread and maybe get some discussion going with those who want to talk gastronomically.
If you just got a killer BBQ or a fancy knife and want to show it off, then by all means do so. If you just made the best pancakes ever or ground your own beef and want to give us the skinny on how you did it, that's why this thread is here.
Me, I'm not much for recipes and all that. I look in the fridge, see what needs to be eaten, and try to utilize everything to the best of my abilities. Enough intro, let's get to the good eats.
We got this Martha Stewart pizza stone and peel years ago(you're allowed to laugh at me for fessing up to actually owning a Martha Stewart item) and I swear we haven't gotten pizza delivered since. I have to say it also helps that the wifey thing works at a bakery and brings home already made dough. But pretty much whatever we want to do, we can do at home. Okay, besides deep dish. By the way, if anyone is ever in the Hyde Park area on the S. side of Chicago I recommend
this place
for the best deep dish anywhere.
Anyway, for great pizza all you need is some good dough, a hot oven and a baking stone.
As far as dough goes, If you're making it yourself you'll probably want a small mixer and you'll want to start that first. A mixer isn't necessary if you have some strong hands and want to knead that stuff the hard way.
Since we get our dough premade, I put the stone in the oven first and turn it up to 550F. After that you get everything together. Roll out the dough, grate cheese, chop veg, etc. Put rice flour or corn meal on the peel, place rolled out dough on peel and go crazy. When you're done assembling your masterpiece gingerly slide the creation directly on the stone and wait about 10 mins (or less depending on how big your pie is and how much stuff is on it)
Tip I learned in working at a pizza place: Anything that has a high water content (olives, mushrooms, bell peppers, pineapple) should be placed on top of everything else so that the moisture can evaporate easier. If you put cheese over these items their water will pool inside the pizza and that just makes it so when you bite down you pull the cheese and toppings off the whole slice with the first bite.
The fruits:
Carmelized onion, venison sausage from a friend and kalamata olives. NOM NOM NOM!!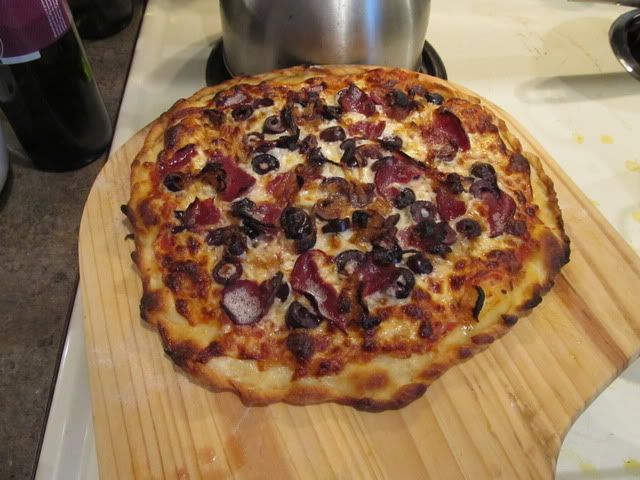 Broccoli, roasted red peppers, basil (underneath cheese) and a pesto sauce.
NOMS McNOMS!!