Believe me when I tell you that this is a really hard marker to let go of. The condition of this Ego is almost like it's been in a time capsule in terms of it's cosmetic and mechanical condition, an excellent example of PE's first of the Ego marque.
Marker has all original parts including the Star frame, and factory optical trigger board with backlit LCD screen in perfect working order. The factory board is running the v1.06 firmware. Fatory star hipressure regulator is rock solid consistent. I have never had one seconds worth of trouble out of this marker. when all my other markers required tuning and adjustment to get on the field this one is always ready.
This marker is up for sale because I have a couple other markers and since I never have time to play with them I figured I'd let the best one go to someone who can enjoy it.
This marker needs nothing, just air and paint and go play! However it is important for you to understand that it has been 6 months or more since I have aired it up and it is possible it could need an o-ring or two... but this is unlikely.
Along with the marker you get the manual and an extensive supply of genuine PE spare parts including extra eyes, poppit, black CCU kit, Hybrid ram cap, original bolt, Dart bolt (installed), various screws etc etc. all packaged in the somewhat tattered but original box. The only flaw on this marker is the very light anno wear on the front of the barrel, no scratches anywhere. A no excuses marker!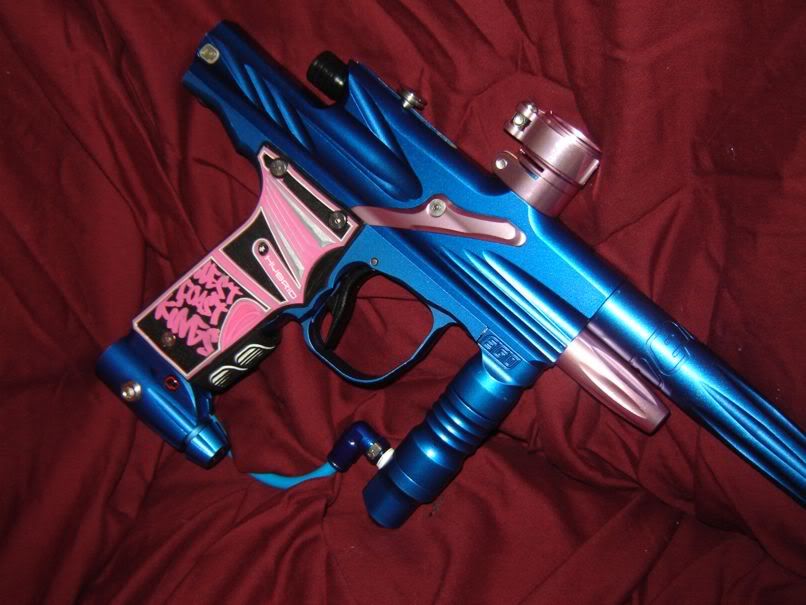 Cosmetic Condition 9.5/10
Mechanical Condition 10/10
Asking $275 shipped to Cont U.S.
ABSOLOUTLY NO TRADES
PayPal Preferred
Extensive Photographs here:
www.photobucket.com/Ego5pics