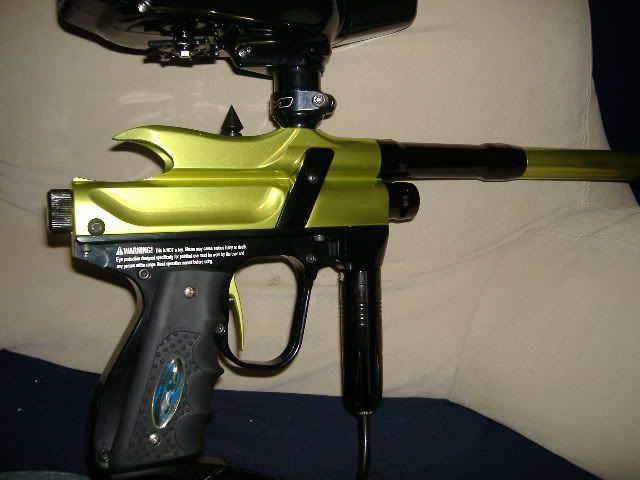 Anno'd by Rick from Acid Rain.
Lime Green/Black Promaster
Complete WGP Kaner Kit (10, 12, 14 inch tips and .685, .687, .689, .691 .693 backs)
CP Roller Trigger
CP Reg
Empire Valve
(one of the few!)
Bonebrake Bolt
System X "X-10" Drop (don't like it? take the ASA off and use it with a rail)
CCM No-Pro feedneck
32* Gel grips
Stainless Steel Screws throughout
High intensity blue LED mod
Delrin spike pin
The following mods were done by GregICD from
Blue Fork Design
:
Ported and polished LPR for better consistency and efficiency
Lightened hammer for a lower operating pressur
Milled grip frame for easy battery changes
Solenoid rerouted for no hose kinks
I'll also include another LPR cylinder housing that I have.
It's used, but barely. I've never played with it in a game, only at the chrono and in my backyard. It's seen probably about a case.
I'm getting out of paintball for the most part, so I'd rather have it go to someone who will use it rather than have it sitting in my gear bag.
No trades, read the sentence above!
As for how much cash I'm looking for, let's call it $450 and see where it goes. Can you pick up a Matrix, DM, PM, or Shocker for that price? Sure - but it will be used, have normal wear and tear, and won't have as many ups as this marker does, and probably won't come with a complete barrel kit.
As with most threads here, this will be posted in multiple forums and I expect it to sell, so offer up. The worst thing that can happen is I say no.
I have plenty of feedback on eBay and over on PbNation - or if you ask Greg, he'll tell you I'll keep my word.