I have here two, New In Box, ICD FS8 Markers.
We won these at a tournament and would like to sell them for some easy cash. These markers are STILL IN BOX.
One of the boxes is still sealed and the other I opened personally so I could take a picture of whats inside.
Anyways, please read my WHOLE post before posting. Most, if not ALL, questions can be answered in the post.
***WE ARE IN NO HURRY TO GET RID OF THESE. ASKING PRICE IS PRETTY FIRM ***
First off, I do NOT ship first. Under no circumstance.
Although, I may be willing to meet you at Annandale Paintball.
I have 120+ positive on PBNation alone. I also have feedback on Ebay and PBReview.com. I am reputable on PbNation, ShockerOG, MNPIG, and the ANNANDALE PAINTBALL forums. I take B/S/T very seriously. Upon an agreement, we will exchange information such as address, phone numbers, email, etc. Phone confermation may be nessesary for safety reasons. Again, I DO NOT SHIP FIRST.
I ship via USPS Priority Mail. I will ship 0-3 days after recieving money. Insurance is optional, but highly recommanded.
I accept payment via PAYPAL, MO, or PERSONAL CHECK.
PLEASE POST before contacting me any other way. It helps keep things organised and gives me an idea of who I'm talking with.
You can contact me Via:
-PM
-AIM: MNPBHustler
-EMAIL: PM me for Address.
-If your a local MN Baller: You may pm me for my Cell Number.
----------------------------------------
Buyer will recieve:
*FS8 Marker -Gloss Red-
-Stock Barrel
-CD Manual
-Stock FS8 Oil
-Extra Orings Misc.
Here is some deeper detail of the FS8:
Innovative "Slider Valve" design
Unlimited rate of fire
Limited version of the Predator(TM) code by Tag Sportz(TM)
Multiple firing modes (including PSP full auto, PSP ramp, and more with capped or uncapped options)
Clamping feed neck
Thru-bean PDS eyes
Pro trigger with 4 modes of adjustment
Extremely lightweight (1.8 lbs.)
Low profile (7.37 inches)
Low pressure operation
Easy, improved battery replacement
3D contour milling
Rate of Fire: 29 cycles per second
Operating pressure: 220 psi
Will get around 1400 shots out of a 68ci/4500psi N2 tank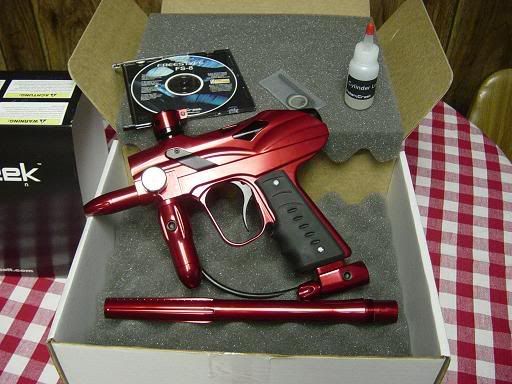 PRICE: $600 SHIPPED *FIRM*