Imageshak isn't working for me so I couldn't upload anything but this will work for ideas...
simplest way is just cover the hole with decking and redo the bar make it a little bigger/wider so you can put seating or stools up to it to eat at. Slide the grill along the side rail, build a small cabinet on either side to make it look more built in.
If you want to keep the hole in the deck. I think you said there was cement slab under it not just a dirt bottom right? take lattice and cut it to fit the inner edge so you don't look under the deck, or cut boards to match the outside decks edge, you don't want people to see under the deck. Then make it into a seating area with a table, its just like a "Japanese style seating table" table is only maybe 1foot higher then the deck level but when you sit at it your sitting normal height, here some reference photos.
You can just make your own table its really simple if you can do simple carpentry, if not it would be cheap to hire someone. I always suggest like a Copper seating to cover the table top cause it looks awesome when shinny or just gets better if aged with tarnish by the weather but it is expensive right now. Butcher block is cheap and looks good also.
You could just buy the seats or make bench style seating along the table edges,
Simple just take a piece of 1/2" plywood cut it to length add foam padding and cover it with fabric(canvas is good) and staple the fabric to the back and just lay the bench along the decking, you could add similar padded seating to the bench along the other side of the deck
If you are doing a fireplace its too dangerous to have a fire "pit" that low in the middle of a deck, (imagine someone walking across the deck and night and just falling into it when its off.) So you still have a few options, do the same table idea as above and jut put a fireplace in the middle of it, just box the footing area so your foot is a little limited. Or just make a built in fire table with no seating built with it, you would just pull up chairs around it. below are some nice outdoor gas fireplaces, some are cheaper but they are easy since all it needs is electricity and a gas line which is easy to run and hide under the deck.
[img]http://t1.gstatic.com/images?q=tbn:ANd9GcQFFQeMRDu4gPiDXbRy2Gk1zRbojiV4m-ECMZpTvELgyDWfnJLGPw&t=1[/img]
imagine this but sunken into the deck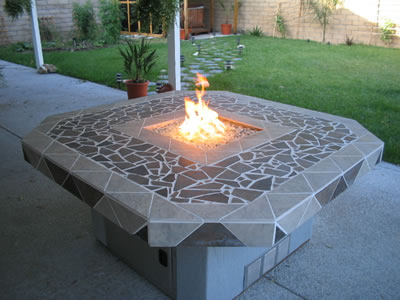 Glass fire pits are really interesting with the gas fire pits, lots of colors available
Also you could put planted large pots with vines to cover the pergola, or run white lights over the top of it. Great lighting for dinners at night and simple and removable. plus you can just run a wire to a plug right at the base of the pergola
[img]http://3.bp.blogspot.com/_kvOahDnSLkQ/SndKHFe90lI/AAAAAAAAC4c/e1lkIKTqGGg/s400/Stacie%27s+Wedding+-+Lights+Pergola.jpg[/img]