Hey, well, I have to clean this sometime, and I have tons of stuff.
All prices are best offer.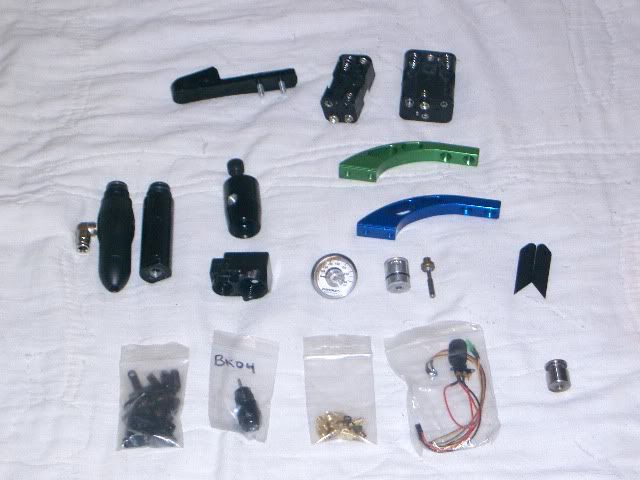 1. Green Drop/rail ---5
2. Blue Drop/Rail ----5
3. Black Drop with screws---5
4. 4 Pack battery brick---5
5. 6 pack battery brick----5
6. Stock V7 regulator---45 <-- GREAT reg, +-4 over the chrony.. stock
7. STock ICD reg----15
8. Bushy ASA with screw----10
Gone
9. Gauge ----5
10. BKO 03 ASA
11. Stock valve, 2 orings. Its slightly bent, on the one side, but it works--7
12. Stock Dust black V7 Eye covers---15
13. 2003 BKO LPR---10
14. 10-32 nipples, with seals.... 7 for 10 of them i beleive
15. Promaster harness, never used----35
16. Stock Hammer, good for modifying--
Gone
Not pictured, can get pictures upon request.
17. Stock 9300 board---20
Gone
18. Stock NON PDS Harness---15
Everything is BEST OFFER!
I am interested in SOME trades. The only trades I will take are
-Barrel/kit
-Entertain me!
You can get ahold of me by INstant messenger at ohspyro89 or email me at ohspyro89 @ pyropb.com
Thanks guys!