Okay, Unfortunately, I got a ticket, and it's time to renew the insurance for my car, so I need to make some money. I haven't played paintball in a few monthe, so i've decided to sell my paintball equipment. This isn't easy for me, but I have to.
First, my baby...Ive wanted one of these since i first laid eyes on it...a Macdev Sonic Bushmaster.
-Blue Sonic Bushmaster
-Chrome CP Barrel
-Silver/Black CCM clamping feedneck
-Black delrin spike bolt pin
-Chrome KAPP reg adapter
-Red CP hp regulator
-Autococker valve spring(yellow is in it, will include whole kit)
-KAPP hp reg gauge(blue)
-Blue macroline and fittings
-Red high intensity LED
-Clear DYE sticky3's
-Blue CP on/off
-Chaos chipped LCD board
I baught this bone stock for $300, so ill sell it for $450 shipped. The gun DOES not shoot right now. It doesn't leak, but it doesnt seem to let enough air shoot to get the ball out of the barrel(atleast it didnt when i last tried to mess with it) BECAUSE OF THIS, ILL TAKE 175 OFF, so im basically paying to have it fixed for you.
$275 shipped with everything i listed.
NEW PRICE=275 shipped
pics: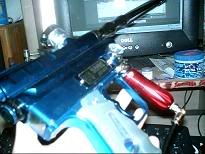 I ALSO HAVE A CHAOS BOARD WITH VLINK(has ramping installed now)-for $100 SHIPPED,OR $80 IF YOU ADD IT WITH THE SONIC!!!!!!
SOLD!
Next is a FREAK barrel. Bushmaster threads, Blue in color with a BLACK back. ALL AMERICAN front. 12". Will include the .689 sizing(the most common size)
65$ shipped.
SOLD!!!
pics:
Last but not least is an actual PACKAGE.
-2004 Smart Parts Impulse. Non-vision. works perfect.
-Vert Max-Flo reg
-NDZ magnetic blade trigger
-Smart Parts progressive barrel
-CP feedneck
-Green extreme rage gel grips
-impulse grips
-Pure energy 48/3000 hpa system. Doesnt have to be hydro'd til 07. works perfectly, the sticker is just a little beat up.
-12volt PRE-BE revvy hopper, WITH 18V SHREDDER KIT!!! VERY RARE!!!
All for $300 shipped!!!!!
NEW PRICE=225 SHIPPED!!!
pics: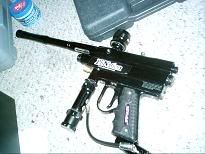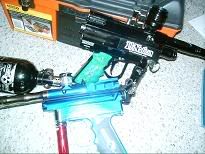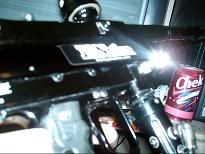 (NO LONGER HAS PBN STICKERS ON IT!!!)
i also have another tank. practically BRAND NEW. only used ONCE.
48/3000 pure energy, still has the price sticker on it. paid 99.95 for it. has a red fill nipple cover on a strechy cord thing. 5 year hydro.
NEW PRICE=45 shipped
I also have a pack/mask/jersey that I am thinking about keeping, but if you would like to throw an offer at me for them, ill think about it...or if maybe you'de like to add it to whatever to make it a package, ill think about that as well.
Thanks for reading, and if you have any questions, feel free to ask!