I am completely parting out my BKO.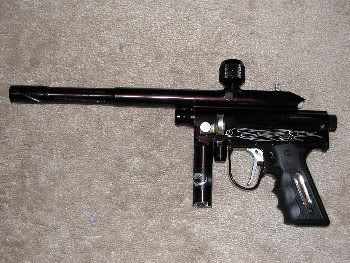 PAYPAL ONLY!!!
More detailed pics on request.
Prices are not firm!
You pay shipping!
Custom Milled 2002 BKO Body with cocker detents- $40
Lazer Engraved Tray (white flames)- $25
Black Volumizer- $8
Stock Valve- $10
Valve Spring and Piston- $6
Stock 2002 Board (with the dip switches)- $15
Stock Non-PDS Harness- $10
Stock Solenoid/manifold- $40
Ram Assembly- $20
2002 Grip Frame (stock Grips)- $30
Extreme Rage Twist Lock Feedneck, ICD threads- $10
Stock Barrel- $10
Stock Feedneck- $5
Stock Detent- $3
Weird Gauge, looks right at you so you can check pressure easily during play. $10
I might have more parts later.
Trades only for Ion Ups, Nipple Cover, or 3/16" allen wrench
I do not ship first.