Today i have my lovely Promaster up for mainly trade.
I've had this gun for about, meh, 9 months now, and its been nothing but awesome. I truly love cleaning, teching, and tweaking with my markers so my promaster is in great condition.
Specs:
Hybrid ***** Grips,
Hyper 2 reg (not pictured)
Vaporvalve
Delrin spike pull pin (black, not pictured)
Warrior Clamping feedneck,
Planet Eclipse ASA W/ on off and purge,
12" 2 piece Proto barrel (on the way)
J&J S2 14 inch barrel,
Custom Made Delrin Trigger (Thanks som3 dud3!),
Lightened Hammer,
yellow LED mod,
0-300 psi gauge,
All (dyemonic) Polished Internals,
dyed trigger and bolt (dust black looks awesome).
*Pics*
Most recent.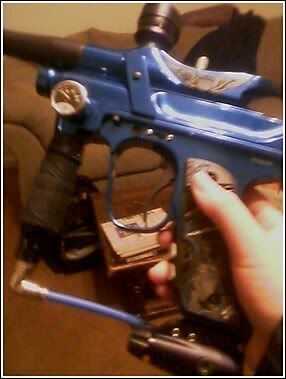 Old pictures good quality
Not looking to sell so price = $450.
Trades- i add
***FS-8***!
FS-pro's.
nice fS-7's.
Freestyles in general
High-ends
Just offer! im a nice guy!
cool stuff.
*Promaster is not in my possession right now. I went down to Dallas, Texas to visit my best friend and bought it down there to play some indoor x-ball. well my typical Mexican friend is being lazy and not sending it back
. *